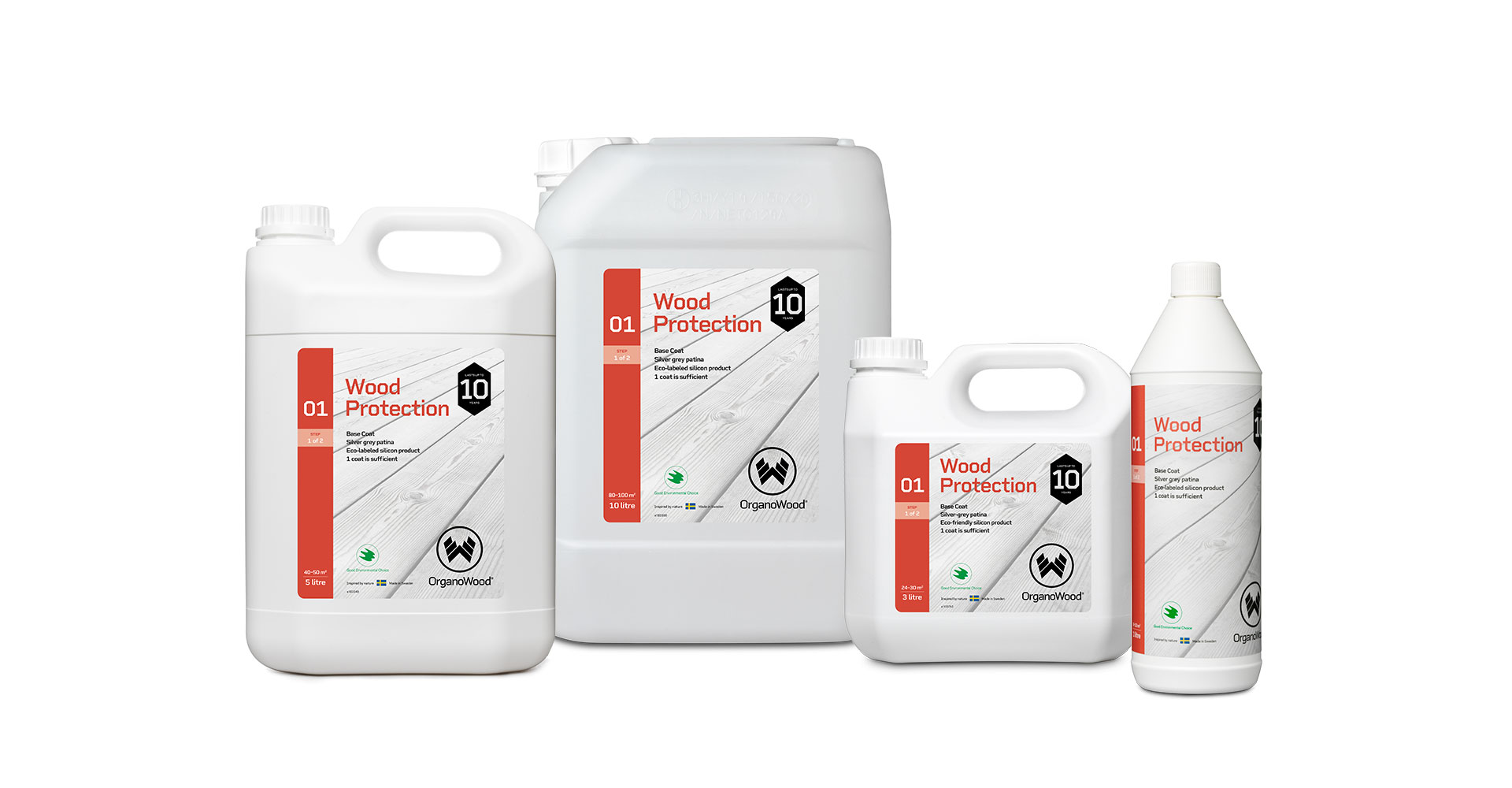 01 Wood Protection – Step 1, base coat
Base coat (step 1 of 2) to give the wood a light, silver-grey patina. The treatment also provides better protection, as the wood fibres are physically encapsulated with silicon molecules, which counteracts the degradation process.
The product is colourless and does not noticeably alter the colour of wood immediately after application. It can be used for surface treatment of virtually all pressure-impregnated and untreated wood. For pressure-impregnated wood, the effect lasts for up to 10 years. Treated surfaces are diffusion-open.
For instructions, see here
---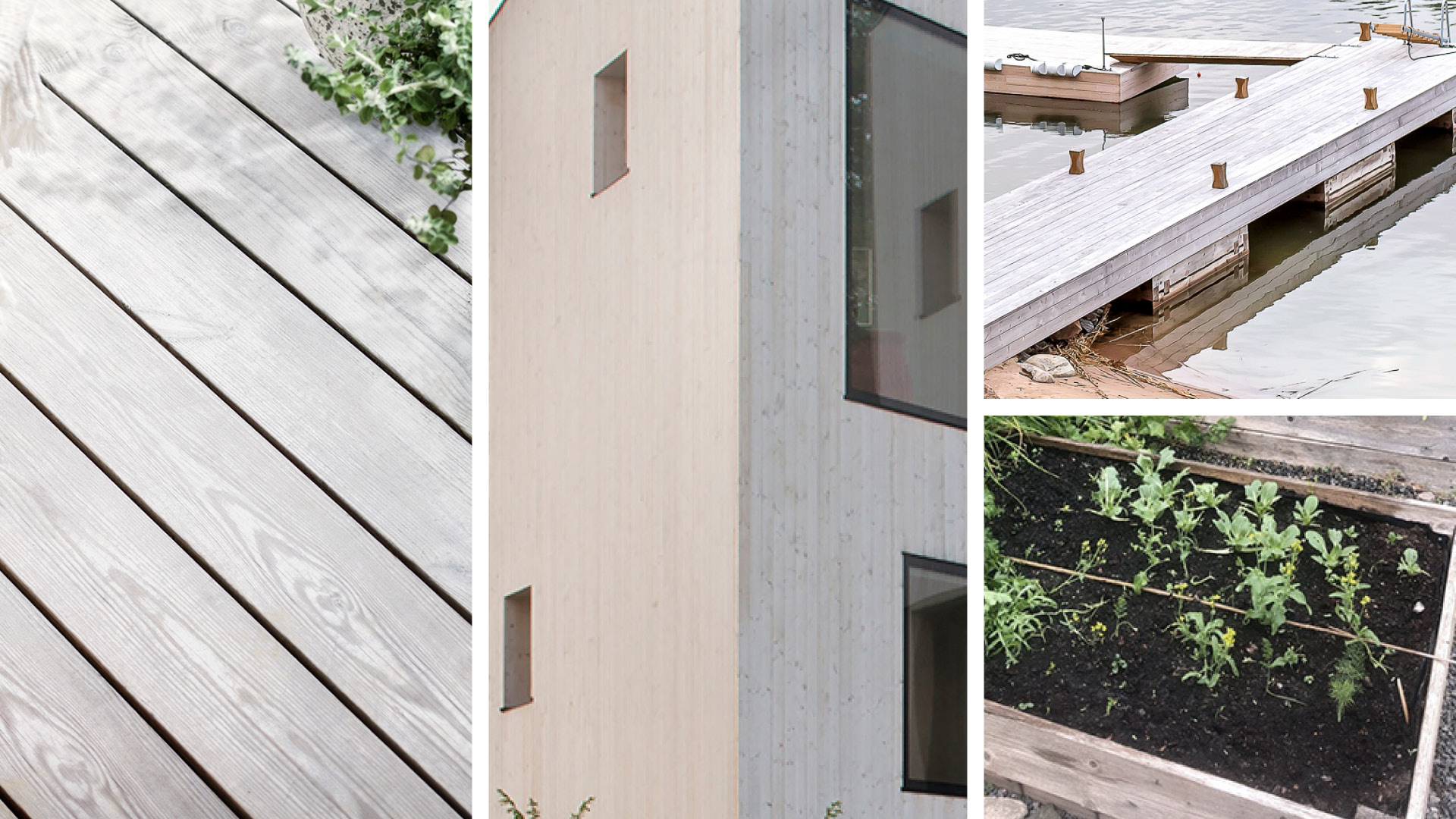 Areas of application
The Wood Protection System is used for the surface treatment of wood outdoors in patios and gardens, for example deckings, fencing, planter boxes, outdoor furniture and jetties. It is also suitable for untreated facades. It is recommended for pressure-impregnated wood, heat treated wood, pine, spruce and larch.
The silicon penetration is most effective with absorbent types of wood, such as pine and spruce. For wood with a low absorption capacity, a short-term change in colour may occur. The products in the Wood Protection System can be used on wood that has previously been treated with oil, lacquer or glazing paint if the previous treatment has worn away. Wood treated with OrganoWood® should not be painted over.
01 Wood Protection should also be used for OrganoWood® silicon-impregnated wood, for example on cross-cuts, after making holes and for maintenance. For more information,
visit www.organowood.com
---
Eco-labelled and environmentally classified
OrganoWood 01® Wood Protection is water-based and consists of silicon minerals and natural plant substances.
01 Wood Protection is eco-labelled with the Swedish Society for Nature Conservation's "Good Environmental Choice", is listed in the Swan Ecolabel Building Product Portal and can be used in Swan eco-labelled buildings.
---
Environment, safety and shelf life
Clean equipment with water before and after use. The product is alkaline. Eye and hand protection should be worn. In case of contact with eyes, rinse immediately with plenty of water. Store at 5–30°C. The product must not be exposed to frost. Shelf life in well-sealed packaging 5 years. Once poured, do not pour the product back into the packaging.
The product is not classified as environmentally hazardous waste. However, we recommend that leftover concentrated fluid is taken to a recycling centre. Recycle the packaging as plastic.
---
Maintenance
Maintenance washing with OrganoWood® Wood Cleaner is recommended. If the surface is mechanically worn, for example where people often walk or move furniture, or if the surface is washed with a strong wood cleaner or high-pressure washing (should be avoided), the wood fibres in the surface layer may be worn away and thus also the treatment. If this happens, re-treat the worn areas with 01 Wood Protection and complete the treatment with 02 Surface Protection.