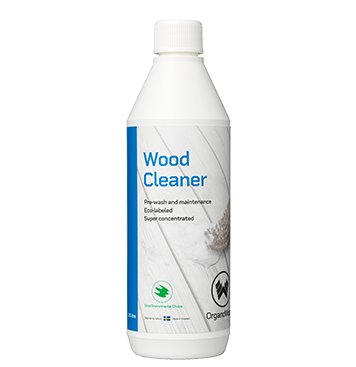 Wood Cleaner
A super concentrate cleaning agent
OrganoWood® 03. Cleaner is a water based super concentrate that is used to clean light and heavily soiled wood surfaces outdoors.
CONSUMPTION
All-purpose cleaning: 1 dl OrganoWood® 03. mixed with 5 litres of tepid water.
Coarse cleaning: 2 dl OrganoWood® 03. mixed with 5 litres of tepid water.
After coarse cleaning of the timber we recommend after-treatment with OrganoWood® 02. Repellent: Dirt and water repellent to completely restore the water repellent properties of the wood surface.
Environment and sustainability
OrganoWood® 03. Cleaner contains only substances that can be returned to the natural cycle. The product is ecolabelled "Good Environmental Choice", environmentally classified B by SundaHus and recommended by Byggvarubedömningen and BASTA. All substances in the product are classified as harmless for the environment according to the Swedish National Chemicals Inspectorate. For more information about each product's sustainability, application and technical specifications, see the product's product sheet.